A simple way to automatically send marketing emails to short term rental guests
You've collected your guests' emails. Now what?

StayFi's email marketing tool is here to help turn past guests into repeat bookers. Our tool is built with short term rentals in mind, and helps automate your marketing campaigns from the moment guests connect to wifi.

Our tool is simple to use, cheaper than Mailchimp, and offers professional setup from the marketing experts at Switchback Email. Whether you work with Switchback's team to take your marketing to the next level, or choose to do it yourself, StayFi's email marketing tool has everything you need to get started, and will scale with your needs.
How it Works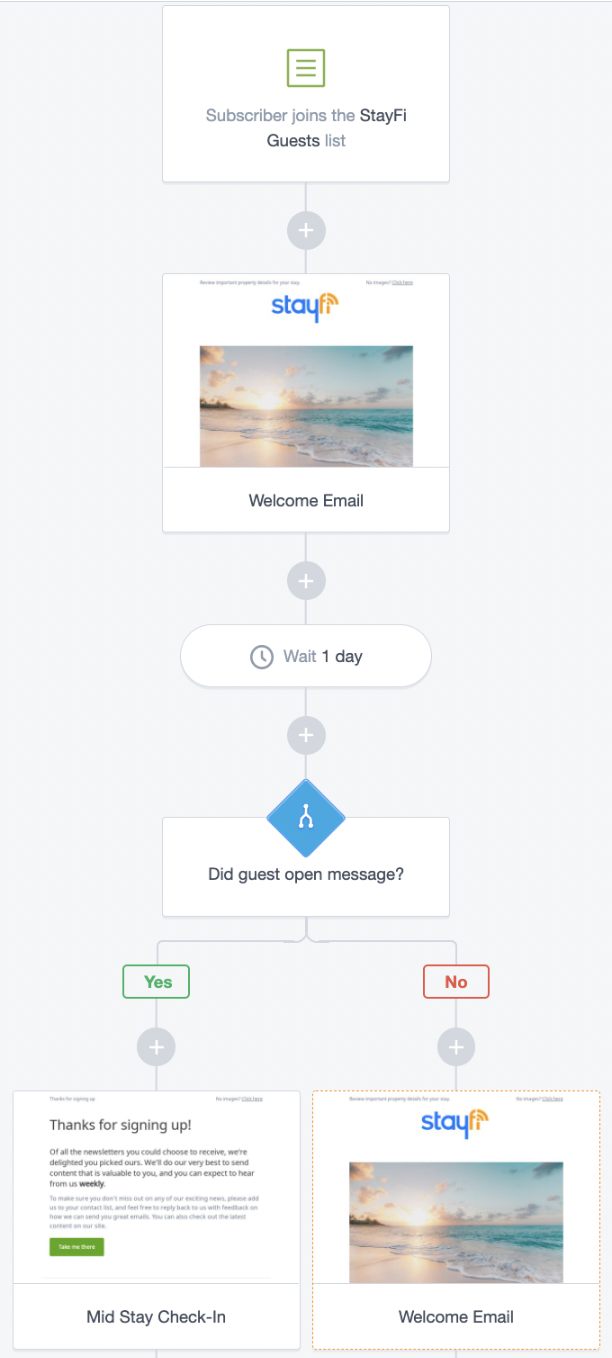 Guests will automatically be added as subscribers in the email marketing tool as you collect their information through your wifi splash page. Guests can automatically be enrolled in automated email campaigns, and you'll be able to send them one-off emails at any point. Automations can help you share important property information and local recommendations at check-in, follow up with direct booking discounts after check-out, and so much more.

Your subscribers can easily be segmented by the property they stayed at, when they first signed-in, and their engagement with past email campaigns to make sure each guest receives contextually relevant messages. You can even import subscribers from your PMS or existing email marketing tool, which will also import any fields you've already associated with these contacts.

Customizable templates make it easy to plug in your branding and start sending automated emails in minutes. If you want professional help setting up your account or creating email campaigns, our friends at Switchback can help.
Getting Started
If you're already an email marketing pro, setting up email marketing in StayFi should be a breeze. Our onboarding videos walk you through importing and segmenting subscribers, creating campaigns, and setting up automations.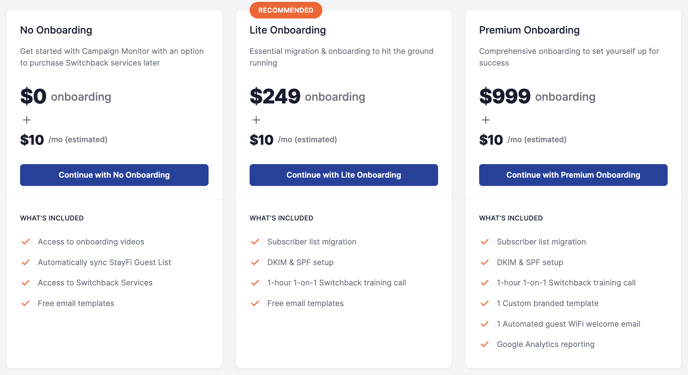 If you need help getting started, or want to take your email marketing to the next level, we can't recommend Switchback highly enough. They'll get everything up and running for you, including migrating existing subscriber lists, setting up DKIM & SPF records, creating custom branded templates and automations, and even training your team so you feel confident working with StayFi's email marketing tool. Switchback's team is flexible and can either set you up for success, or run all future email marketing campaigns for you.